Moderators: Hunter White, Olivia Diogenes, Millicent Grim
Adventurer

Posts: 83
Joined: Wed May 23, 2018 12:43 pm
Location: The Sacrifice Club
Adventurer

Posts: 17
Joined: Mon Oct 29, 2018 10:59 am
Location: where the party is
Text to Meadow: Up for a gig?

(an hour passes)

Text to MG: I was just thinking about you.

Text to Meadow: Oh yeah? In what way?

Text to MG: ...It's a scotch night. xox
Text to MG: So, what's the gig?

Text to Meadow: Oh man. I should do that tonight.
Text to Meadow: Gig is... a Valentine's day bash. Everybody who's everybody. We'd do two sets. One with AaM, what's left of it. And one of just you and me doing a spooky, strings and piano VIP set.

Text to MG:You should do that tonight... with me.
Text to MG: ...And now you're coming over.

Text to Meadow: Mm. Ok. Where?
Text to Meadow: But... first you gotta say 'yes.'

Text to MG: Nah. I need you to convince me.
Text to MG: [address]

Text to Meadow: I see.
Text to Meadow: Smooth.
Text to Meadow: Be there in....20.

Text to MG: [img attachment] the image is an extreme close up on Meadow's mouth, blowing a kiss.

Text to MG: [img attachment] The image is a selfie of Millicent, doing the anime V fingers, with white anime buns, one eye closed, the tip of her tongue sticking out of the corner of her mouth, and a frilly white pair of straps of some random fashion confection on one shoulder, and sliding off the other.
Adventurer

Posts: 83
Joined: Wed May 23, 2018 12:43 pm
Location: The Sacrifice Club
[Written with Neil's Player.]



Neil's phone rings from a blocked number.

An automated voice picked up the line: Hi, the person you're calling is using a screening service from Google, and will get a copy of this conversation. Go ahead and say your name, and why you're calling.

"Hey. It's me. I... have a favor to ask. ...and I miss you," the last syllable fading as she pulls the phone away. But then her voice is back again. Quiet. "It's ...not just a favor for me. I think... I think you'd like it." >click<

A half hour and two phone calls later, Millicent's phone rang from an unrecognized but visible line.

"H-h-hullo?" and it was as simple as that.

"Bonsoir," Neil indulged himself a touch of foreboding, but there was no certainty whether it was an actual smile or just the sound of amusement.

She would have been lying if she denied the flutter in her chest. How much more difficult things were. That smile she heard. She wanted to wipe it from his face with her mouth. Like that would fix things. "I was wondering if you would call back...chere."

"Oui, bien sur. Although I had to chat your number out of Jonathan as you didn't leave it. So what is it that you think I may like?" No echo of favors, or missing, just the present fact of his amiable curiosity.

She hadn't been sure if the inclination was evil, or nefarious. Or a test of commitment and curiosity. But she was aware that she had not left her number. And she couldn't keep the mischievousness out of her smile. As strangely innocent as it was. But also... she just... couldn't have stayed on the voice mail one moment longer. It made her heart shake. "And he just gave it just like that? Hm," she disguised her grin. "Come DJ for me at the Club. It's been forever. I'm sorry....that it took an event to...." well...you know. "It's all posh and perfect, it reminded me of you."

"He hassled me for sufficient proof that I wasn't drunk-dialing absentee contacts, so I suppose he doesn't know what you're asking and might ask? I'm surprised he didn't beat me to it. Anyway, when exactly are you having this event? So much flattery. Is this a mood or just motivation?" The unnecessary queries were almost as good as acceptance of the apology tied to an excuse, and less strenuous on the conversation overall.

"Oh well, at least he's doing half his job. ... Do you drunk dial old flames often?" it wasn't fair how she could just ask things like that. And it was somewhat unlike her. "It's for... Valentine's day. But it's more of like... a traditional bacchanal. History, not just Hallmark. My cousin is hosting half of it at her bar. ...I can flatter some more, if you like. Because it's both." And that was sincere.

"...how often do you ask them for favors?" The discomfort of answering a question with a question was audible and subtle, a touch admitted in the verbal fencing and back en garde. "--on Valentine's Day? And no, that's not... My vanity is sufficiently served. Let me look at the book; how've you been?" He did in fact double-check the evening in question, and part of the price she paid was filling in the silence that he could make as evocative as any rhythm or melody.

"So..... yes," she rolled that answer over her tongue like it was fact, not fiction. He had let her interpret it as she liked, and so, she liked. There was some strain in her voice as she...settled in. Flopping on some not-that-hard surface and nestling the phone in a more comfortable position. "That's good to hear," that his vanity was in tact. Her smile dulled and became more easy in the background of the conversation, "Oh... fine. Awful. Fine again. Distracted. Focused. Did you hear my recent album?"

"This time, for nostalgia and irony. If there's anything else I need to know...?" He defaulted to professionalism. She wasn't wrong, but there was a limit to the satisfaction of being right.

"This time which?" it was a simple question about clarifying, especially considering all the emphasis.

"Ah, yes, I suppose that was assuming there'd be another time. Perhaps not? I misspoke. It's nice to be remembered. The perspective of our memories aren't quite the same. I am an agenda item successfully crossed out."

"Wait, wait. Neil..." you could hear her sit up, huddle closer, get as serious as Miss Millicent Grim can get. "They can't be the same, but I think they're probably pretty close. And of course I remember you. I just... I just.... You are not an agenda anything. Ever. Don't.... Mm. Please don't say that."

"No. I don't know. I agreed. You get what you want. I'm trying to be nice and gracious. That's easier. And prettier. Go with it. You found my phone number. You can use it for business or for being more than a memory or an objective. If you want. Is there anything else I need to know?"

There was a soft, pregnant pause. "No. I guess-- no," ease drifted back into her tones. But also resignation. "You don't have to be anything you aren't. Not that that isn't how I'd describe you...but just...for the record. So.. I don't know. You tell me. Do you need anything? Maybe call Jonathan if you do? Are you even in town?"

"I meant about the gig. Sure, I'll do that. And what if I'm in town?"

"Coffee?" It was less nefarious than it sounded. if anything she didn't want them to be utterly distracted by each other the night of the event. Or hurt. Or destroyed.

"Sure. Fine. Send an address."

She sent an address he likely recognized. It showed up as a little, innocuous flag on a Google map. It was across the street from the Club. Le Procope. A creature of habit, or a creature unwary of prying eyes, that was up to anyone's guess. "4pm? High Tea time?" it was only a couple of hours away.
Junior Adventurer

Posts: 1
Joined: Fri Jan 11, 2019 8:16 pm
**Text to Morri:** HEY! ARE YOU ALIVE?!

**Text to Milli-Bean:** THIS WEEK. YES. WHY?!

**Text to Milli-Bean:** I DONT HAVE ANY PLANS ON DYING. BUT THAT CAN CHANGE. Srsly. My calendar is open. Sup?

**Text to Morri:** Don't just "sup" me! Hi!!! How are you! I love you! Play drums for me for Valentine's day at the Sac.

**Text to Milli-Bean:** I will 'sup' you all I want! HI! I'm alive today! I'm good. How are you?!
......
Who else is gonna be there? Is there a catch? i feel like there's a catch. Do I have to wear electrical tape on my nipples again?

**Text to Morri:** Oh god. No. Well............ unless you want to. <_< But it would have to be red and white. We should all wear read and white. No catch. Well..I mean..other than, you know, a room... with heavy security... full of vampires. And my cousin's bar!

**Text to Milli-Bean:** Vampires AND your cousin's bar. And I can just wear tape for a bra with no catch? I am in.

Srs. just give me date/time and when we need to have rehearsals. I'll need to get my kit moved.

**Text to Morri:** Damn. That was easy. ...ok! Come over...Tomorrow. No drums yet! We should talk! Prepare! Pick out outfits!

**Text to Milli-Bean:** I have nothing but time on my hands these days.

Pick outfits....can you just do that? especially if you want us all to be match-y.

**Text to Morri:** You mean you don't *want* to pick outfits with me?

**Text to Milli-Bean:** That is exactly what I meant! You know I don't shop alone unless it's at home.

**Text to Morri:** Ugh but...let me at least show you like...5 options. I'll put them together.... and you just.. I mean, I barely know exactly what I'm wearing. (Ok, that's not exactly true. I'm doing a ghostly harajuku queen of hearts manga maid.) So....something like that? .

**Text to Milli-Bean:** Fine! Fine.
....I cannot play drums in something like that. Is that the theme though?
(Image)
**Text to Milli-Bean:** That is do-able. We can talk this over tomorrow. As long as I'm not wearing 18 layers.

**Text to Morri:** Honestly I think the less layers the better. Yay!!! I'll send you my location.
Junior Adventurer

Posts: 7
Joined: Sat Dec 08, 2018 3:23 pm
Location: Owner of Dún Scáith - A Chemical Eden Property
Contact:
A Chemical Eden interpretation
Event 1 of 2: The Dún Scáith Lupercalia Event
Word of mouth was a useful method for rumor spreading, if the right mouths caught word. And so it was said that Dún Scáith will host a cocktail event for the first half of Lupercalia 2019. Attire is recommend to have at least a little red... somewhere. By 11:30pm all patrons will be urged to begin their way to The Sacrifice Club for a live performance and dance party with additional, curious experiences. There would be a one night only magical portal erected in DSL, forever solidifying the connection between the very private, very hush-hush Vampires that run The Sacrifice Club to the distant cousin's bar. This portal would leave from Dún Scáith to The Sacrifice Club (and back again) providing the perfectly efficient transportation between the two venues. So, no need to grab your coat when traveling between venues as long as there are no aversions to magical means. (Baaaa.)
Amelia Sinclair's vision for the evening has a bit of old world proper in it, of course. The hope is simply to provide... a great night at a posh cocktail bar. Not a cold, American bar or RhyDin bar where people ignore you unless you catch their eye. But something more like home, her home, like Europe. Where a good line or a good joke can pull the whole crowd together and set everyone awash in warm, mutual amusement. A bar where you don't need to know everyone to know everyone, and you've gathered together to celebrate ... each other. Whether that means intellectually, or carnally, it doesn't really matter-- because it's Lupercalia. And on this day, we write poetry. We write odes to those we adore.... mm... or just met. We celebrate the flesh we live in, and the minds we immortalize them with.
On this night, we write for each other.
This Lupercalia we recall the story of the priest in his cell, waiting to die, and writing a final note to a girl he had loved, even for a moment. The girl whose letter he signed, "Your Valentine."
I loved you first: but afterwards your love
By Christina Rossetti
I loved you first: but afterwards your love
Outsoaring mine, sang such a loftier song
As drowned the friendly cooings of my dove.
Which owes the other most? my love was long,
And yours one moment seemed to wax more strong;
I loved and guessed at you, you construed me
And loved me for what might or might not be—
Nay, weights and measures do us both a wrong.
For verily love knows not 'mine' or 'thine;'
With separate 'I' and 'thou' free love has done,
For one is both and both are one in love:
Rich love knows nought of 'thine that is not mine;'
Both have the strength and both the length thereof,
Both of us, of the love which makes us one.
[[All are welcome! Descriptions of both Venues and confections and drinks will appear shortly. For those interested in the live play portion, we'd love to do something a little different to get everyone schmoozing together. Names of the Poetry Slam participants should be DMed to Amelia Sinclair by the end of Saturday 2/2/2019. On Sunday 2/3/2019 these names will be assigned numbers, and a random number generator will pair participants. You will be messaged with your muse's name and have this time up until the live event to investigate the individual and write a short ode to them. Whether it be a surface level ode to a stranger (perhaps upon the colour of their hair..) or something more scandalous for those who know each other... it's all in good fun! This ode will be performed live in the Discord channel dedicated to the event. When you receive your muse's name by the end of 2/4/2019, you will also receive a number that will signify what order you will be called up in.

You do not have to participate in the Odes to come to the parties! No pressure! Odes are welcome to be memorialized on the event boards whether you attend or not!

To get the most bestest fun participation, please supply the following in a DM to Amelia Sinclair:

Your name:
Your profile link (wherever there is the most detailed physical description of your character):
Location of your writing (if applicable) for your poet to peruse:
Any additional preferences or concerns:

Thank you, and we look forward to hearing your work!]]



Discord event: Sunday 2/17/2019 at 8pm EST


PHOTOS OF THE BAR
Coming soon: The Sacrifice Club Lupercalia Bacchanal [[Board Posting Only Event]]
Last edited by
Amelia Sinclair
on Sun Jan 13, 2019 7:11 pm, edited 1 time in total.
Junior Adventurer

Posts: 7
Joined: Sat Dec 08, 2018 3:23 pm
Location: Owner of Dún Scáith - A Chemical Eden Property
Contact:
Dún Scáith - drink and confections PLACE HOLDER
Junior Adventurer

Posts: 3
Joined: Sat Nov 10, 2018 3:40 pm
The Sacrifice Club: Lupercalia Bacchanal [[Board Only Dance Party]]
The turn off Temple onto Dioscuri Blvd. was a game of shadow and light. The first few street lights blend a metaphysical and almost spiritual change to the transformation from electricity to fire-lit gas. It shimmered like fire-opal over the slick surfaces of whatever method you arrived in. It was a completely different kind of illumination. It went from cold, to warm... and then to darkness. Though there were a few shop windows with lights in them on the left side of the street, they looked out of time. The shop faces were old, like something from London or New Orleans. One was a coffee shop with a neon coffee mug in the Art Deco window frame.
Le Procope
. But there likely wasn't much time to survey the shops, because the right of the street was a little more strange and certainly much more busy. Almost as soon as the block started, a long line of people stood waiting. Every single one of them was wearing black, occasionally there was an accent of red or deep blue, but for the most part they were one long unit of black clad night-life. Living, breathing night. And they stretched down the longer-than-normal street, almost disappearing in the darkness on this right side of Dioscuri Blvd. Clearly this was where you were going, how could it not be?
The 5 story warehouse or 1920s looking bank-like structure loomed from the middle of the block. The club, itself, was black glass and stone. It was all obsidian and granite. The club had no markings on it, no words, no bills. But after you looked at it, only when you looked away, did you catch a spectre of words just below the first floor of the structure in your periphery. When you looked back, looked directly at it, there was nothing there. But if you glanced at it from the corner of the eye, the words faded into view, just at the border of your subconscious. "
The Sacrifice Club.
" The effect was like starlight. (Though certainly it must be some club wizardry in blacklight.) Captains of ships, long before technology and the world began to lack most of its mystery, knew how to navigate the world by the sky. The faintest stars could never be seen if you looked at them directly, and especially not if there was any light source in front of you or behind. You had to flirt with the stars, looking at them out of the corner of your eye. And you needed to master capturing this cool, ghostly glow to navigate the intricacies of the sea and the universe. If you didn't, you lost yourself, maybe forever.
Seduce or die.
In truth, many of the patrons of The Sacrifice Club felt that way about their haven.
There was a main entrance way that recessed into the building below this half-existing sign. The door was about 10 feet back from the wall, and in this out-cove was the obligatory tall and slightly burly (and very German) bouncer.
Though there was a long stretch of "NO PARKING," limo space in front of the Club, there were also 3 parking spots. Interestingly, the curb they were drawn in front of was red. A confusing mixture for most drivers. But these parking spots weren't for people who did not understand. Only one car was parked there, a midnight black GT Ford 500, looming like a darker shadow in the black of the night. Its masculine haunches choruscating like fish scales at dawn.
Or.... you didn't have to come that way at all. Not tonight. You didn't have to wait in that line. Lupercalia itself opened a doorway
in sacrifice
...
The entry way to the Sacrifice Club was dark. Not dark enough to promote tripping over your own night-out shoes, or wonder if someone was right behind you, but dark enough to wonder if someone was over there in the corner ...watching.
You walked in, or you shimmered through the swirling portal from the back of DSL. Either way, you'd made it past the intimidating German bouncer. You made it into the gaping maw of the too-dark building, but now you had to make it past Evangeline.
So you pass by the second velvet rope of the evening. (Or first. Whatever.) You pass the plush scarlet sitting island and the despondent coat check girl who is glancing up from her manicure to see if you need attending. (Eva will have her fired for that. ..Why do coat check girls never last that long?) Past the photo wall of a cathedral that just doesn't quite look right....
To Evangeline. She looks up at you with her sharp, fawn coloured eyes. She's a belonging kind- a club creature that never sees the light of day. Well, obviously. But a club creature that is never seen out of this context right here. Her role. Her bond.
She's pale as the moon and equally luminescent. Her heart-shaped face has too much point in her chin, too much angle in her jaw and there was too much natural-scowl on her brow. She twists her face in the direction of the subchamber's exit. Her raven black hair shines in the slanted light. Did that mean go in? Go through?
"Don't forget a Favor," she says before you turn away. The tone of voice she uses is almost like it pained her to remind you.
Fortune's Favor
At the doorman's booth at the point of entry, once identification and admission have been afforded, patrons who desire it are offered a red ribbon bracelet from a black basket lined in white satin.
A small stack of cards with additional information about the bracelet's origin is also available for the curious.
Legend has it that the two people connected by this thread will have an important story, regardless of the time, place or circumstances. The red string might get tangled, contracted or stretched, as surely often happens, but it can never break.
(
Additional Information
)
And so you enter. Leaving that cold, insensitive antechamber.
..and you are greeted with the thudding bass of a true nightclub.
The wall that had once been on your right spills away to open up on an industrial dance floor. The inside has lights flickering and flashing. It feels new and expensive. But the backdrop of the large main center room is industrial. Underground. Literally. The wall you had once hugged spills away into a modern lit bar the entire length of the enormous club. No one without a drink. Not unless you're dancing.
[For inspiration/feel]
The dancing is chaotic. Hedonism lives here. It is scene yet it is aesthetically sophisticated. When the lights go bright you can see a DJ. A stage. Faux windows. Fellow dancers. The space is yours to do with as you like.
The opposite side of the large room has a wall. There are several places to pass through. One at the far end of the right side goes into a pitch black room you feel like you shouldn't be standing in. Did someone forget to turn on the lights? Is this a..thing?
Directly across from the entrance way you entered from, all the way across the massive dancefloor is a door that leads to a staircase.
It goes up. Where one will find huge iron doors with ornate lion-head knockers. It is locked. And honestly, it looks as though it is more for show than utility. And it wont budge. Not even if you
try
.
But if you go down... you'll find another sitting area. This one has the feel of the evening. Lupercalia is in the atmosphere. The large room is red and pink. It has its own bar straight ahead of you, and plush pink chairs and booths to the right. If, instead, you go left... it is very, very scarlet. And there is a stage roped off with and hidden by many red curtains. The bartender across from you has flaming red hair and a Scottish brogue. If you ask him, he'll give you the easiest smile you'll ever receive in this den of iniquity, and he'll tell you that what happens down here doesn't happen till the wee hours. "When even the things that lurk in the offices upstairs want a lullaby."
But you're welcome to drink. And talk. And lounge.
There are other rooms in Club Sacrifice. VIP secrets for the painfully famous and shy:
And there are hidden places where you can hear yourself think. And barter. And...
Just don't go upstairs.
Not unless you know who you are looking for.
And they are expecting you.
Junior Adventurer

Posts: 3
Joined: Sat Nov 10, 2018 3:40 pm
The Sacrifice Club: Lupercalia
Indulge
Libations.
Lupercalia
"Lupercalia was an ancient pagan festival held each year in Rome on February 15. Although Valentine's Day shares its name with a martyred Christian saint, some historians believe the holiday is actually an offshoot of Lupercalia. Unlike Valentine's Day, however, Lupercalia was a bloody, violent and sexually-charged celebration awash with animal sacrifice, random matchmaking and coupling in the hopes of warding off evil spirits and infertility."
A decadent, limited edition black vodka with hints of lime and cherry, this opaque black cocktail shimmers like a night sky, full of promise and burgeoning potential.
Optional Extra:
Daring
. Drink this delectable potion for a little literal liquid courage to help you make that next random match. Who knows? This could be the
One.
Ritual Sacrifice
"Lupercalia rituals took place in a few places: Lupercal cave, on Palatine Hill and within the Roman open-air, public meeting place called the Comitium. The festival began at Lupercal cave with the sacrifice of one or more male goats—a representation of sexuality—and a dog.

The sacrifices were performed by Luperci, a group of Roman priests. Afterwards, the foreheads of two naked Luperci were smeared with the animals' blood using the bloody, sacrificial knife. The blood was then removed with a piece of milk-soaked wool as the Luperci laughed."
An extra dry gin martini with a house made blood solution that looks (and pools) "just like" the real thing.
Optional Extra:
Love's Light Feet.
Singles Awareness Day got you down? Indulge in a little mood lifter to lighten your spirits, put a smile on your face and your ass on the dance floor.
Feast
"Feasting began after the ritual sacrifice. When the feast of Lupercal was over, the Luperci cut strips, also called thongs or februa, of goat hide from the newly-sacrificed goats.

They then ran naked or nearly-naked around Palantine whipping any woman within striking distance with the thongs. Many women welcomed the lashes and even bared their skin to receive the fertility consecration; it's open to speculation what the lashes represented.
During Lupercalia, the men randomly chose a woman's name from a jar to be coupled with them for the duration of the festival. Often, the couple stayed together until the following year's festival. Many fell in love and married."
With heady flavors of apple, brandy and blackberry, this decadent, lustrous beverage is not for the faint of heart.
Optional Extra:
Animal Instinct
. For a limited time, imbibing this drink will give you an extra shot of all the right pheromones to make that
special someone
swoon. Use sparingly, or not, but we're not responsible for any fertility...
accidents
.
Saint Valentine
"Thanks to Saint Valentine's reputation as a "patron of lovers," he became synonymous with romance. In the late 5th century A.D., Pope Gelasius I eliminated the pagan celebration of Lupercalia and declared February 14 a day to celebrate the martyrdom of Saint Valentine instead, although it's highly unlikely he intended the day to commemorate love and passion. In fact, some modern biblical scholars warn Christians not to celebrate Valentine's Day at all since it's thought to be based on pagan rituals."
Delectably fizzy, this sparkling wine confection combines the light and bubbly flavors of elderflower and lemongrass, with a bracing citrusy vodka kick.
Optional Extra:
Cupid's Kiss
. Love is in the air, for tonight at least.
[[Note: All "Optional Extras" are exactly that: special enhancements these cocktails can provide for a limited time. Open to interpretation, feel free to incorporate these "extras" into your responses--or not!-- as you desire. ]]
Source 1
Source 2
Junior Adventurer

Posts: 3
Joined: Sat Nov 10, 2018 3:40 pm
The Sacrifice Club Presents: Lupercalia
Indulge
Confections.
Heartbreaker
Broken Glass Cupcakes
Please, Sir. Can I have some more?
Sinfully sweet vanilla cupcakes with a sexy hint of cinnamon, topped with cherry cream cheese frosting and spun sugar broken glass. Finished off with an utterly irresistible drizzling of raspberry cordial, this little heartbreaker will have you begging for another.
(
Recipe
)
True Love's Kiss
Amaretto Truffles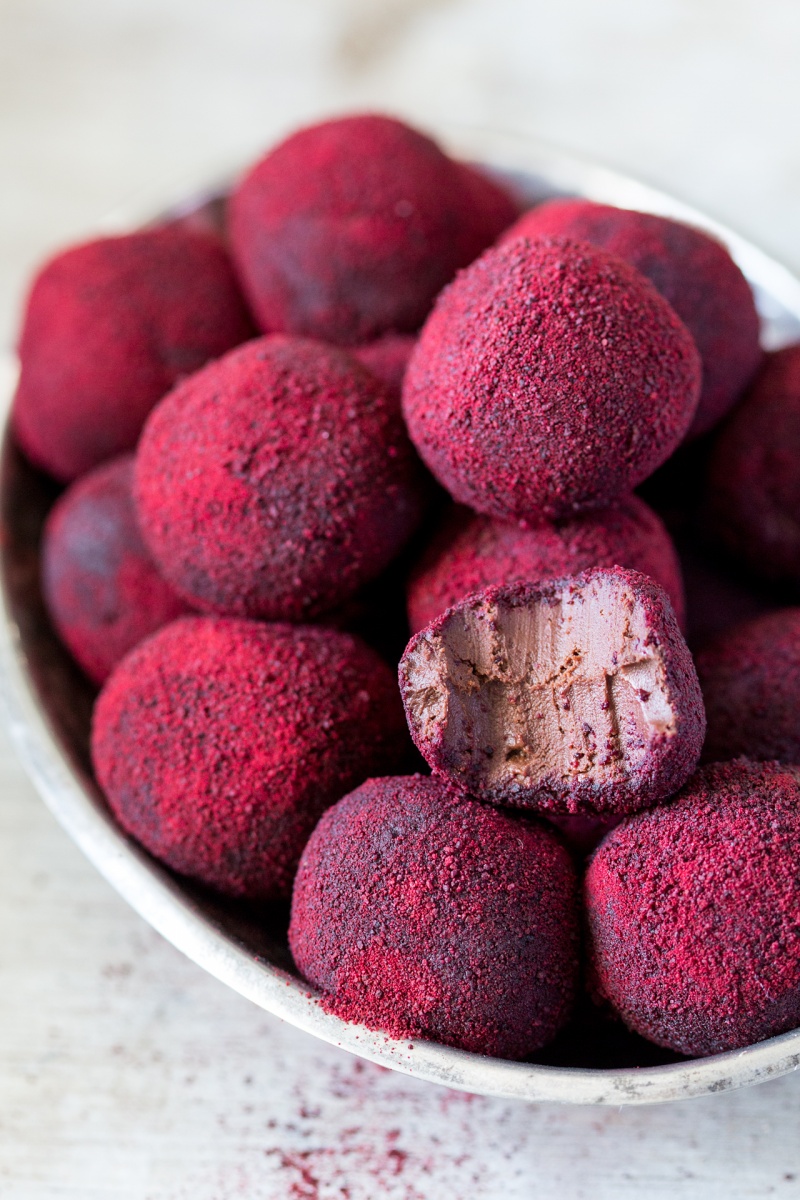 To me, you are perfect.
Rich and indulgent, these truffles are made with 70% dark chocolate, coconut cream, Amaretto, maple syrup and a dusting of almonds. A word of caution: true love's kiss has been known to change the world, and sometimes destroy it. Careful of that first step, it's a
doozy
.
(
Recipe
)
My Besotted Valentine
Ciroc infused Chocolate-covered Strawberries
Your dirty little secret
Gorgeous, ruby red strawberries ripe almost to bursting, soaked in a variety of alcohols. Choose from rose and vodka, port wine, or bourbon, each rolled in sugar and luxurious layers of white chocolate, then dusted with a sticky sweet tinsel of edible glitter. For an extra little
je ne sais quois
, try one with an extra shot of Citroen vodka. A hedonist's dream and a bite to remember.
(
Recipe
)
Conversation Starter
Sexy Conversation Heart Cookies
Tell me what's on your mind
Cat got your tongue? These sumptuous sugar cookies will help you with all the things you can't quite find the words to say. Note: This establishment is not responsible for the consequences of sharing these cookies with your neighbor, unless of course you've got a good story to share.
(
Recipe
)
Junior Adventurer

Posts: 2
Joined: Fri Jul 20, 2018 9:41 pm
[written with Amelia's player]
Amelia rounded the bar with the slick click-clack of her too-expensive Louboutins. She pushed her fingers through long, gun-metal coloured hair, fluffing it some and lifting it in a loose shake to add some volume to the weight of the day.
Julian raised a brow at her. "It's all fine," he sad, consolingly.
"Mm. I know, I know. I just have to give it one more look to be sure it's not a garish nightmare."
"Could you even *create* a garish nightmare?" he asked.
"Na. Probably not. Too brilliant," she flashed him a smile, giving a little glimmer of her just slightly too long canines. Genetics, not fantasy fakes.
"Well, there you are," he smiled at her and slid his thumb under his suspender strap (pink hearts today, over a salmon pink Cuban shirt). "When are we opening?"
"8pm. Sharp. Where are the little foil menus?"
"They're still on your desk."
Amelia halted to change directions, but Julian placed a hand on her bare forearm. "I got it, boss."
"Right," she said.
Julian tilted his head inquisitively. "Never seen you this nervous."
"Well, I never opened a damn portal in my bar."
Two pairs of dubiously curious eyes slid towards the gaping, spinning, roiling and churning abyss at the end of DSL's main room. It swirled and slithered in oil-slick colours of deep violets and effervescent smog. They looked at each other at the same time, the scene was almost comedic.
"Hunter?"
"Yes," she confirmed. Not needing more of an answer or a question. Then she pushed open the kitchen door half way down the bar and disappeared into the back rooms.
Ezra, wearing cherry-red leather high-top trainers matching a polo shirt with ash-grey jeans in between, emerged from what was ostensibly nowhere to side-step around her. He was wiping something from his forehead with the back of one arm, and carrying a black plastic rubbish liner knotted shut and half full of something else with the other arm hanging it cautiously away from his body. It rocked and sloshed indiscreetly on the way to the dumpster behind the bar. "Pardon -- oh, aye? Check the walk-ins 'fore ya order any meats, yeah?" He made a clicking noise with his mouth and tipped a nod at her deferentially before shoving a heavy door out of his way to get outside.
Amelia turned gracefully to let Ezra go by, following up his remark with a subtle angling of her chin as the instruction whet her curiosity. He was gone behind the door before she could inquire. She'd stop and compose herself a moment in the near privacy of her back room before going into the office.
The familiar smell of a unique brand of men's cologne was overpowering in the confines of the managerial office, freshly applied and liberally to diminish and dominate any lingering odor of livestock handling. The spiced scent in the office was amplified by ephemeral heat and energy which paced and prowled through the confined space, enticing and claustrophobic.
She looked at Hunter and smiled, half secretive and half bawdy, social commentary always playing on her lips. "It's pretty," she commented on his work as she leaned, touching the French seams of her stockings against the lip of her desk. Her deep, somehow metallic arterial-blood red art deco dress flashed its own bemused comments at him from the Swarovski crystals that made it a spectacle to behold. So, Valentine's day could get her out of her customary black. What else could it get her out of?
"A touch of glamour," Hunter explained smoothly and off-handedly to Amelia's legs from an impudent seat in her desk chair, the line of his frost-blue gaze alone lifting before his head cocked up too. "To avoid any confusion for the uninformed, mainly. You remember Elliot," he casually re-introduced the pair, bringing her attention to the presence of the slightly younger man on the opposite, appropriate side of the desk with a lazy gesture of his hand in that direction. A couple sodden gobs of wool cotton were soaking, apparently discarded, in what appeared to be some kind of milk turned pale candy pink in a shallow bowl on the blotter calendar protecting the surface of the desk. It was accompanied by a knife that had been blooded, a couple of shaggy goat-skin straps and a bar rag used to recently to clean the blade. The instruments were equidistant between the two men, incriminating neither one more than the other.
Elliot stood up from the chair, a curved set of goat antlers inconspicuously attached to his head making him several inches taller than he was already. There was a stark, fresh authenticity about the dark spattering of blood on his buttoned-up vest (confirmed for the curious by the details of a few minuscule droplets on un-tucked shirt tails). A blend of sophistication and savage, he almost crackled with vitality and barely sublimated power -- any other day of the year it could have been blamed on an altered state from some substance he'd imbibed, but not this day. They shared a brief, loose embrace and the right cheek first kiss-less greeting dance. "Brilliant spot you've got here. And this dress... worth it," he offered compliments as they separated, his white suit setting off all the crystals dangling from the lush silk crepe of her dress. His grin deepened the farther down a plunging neckline his sloe, smoky blue regard traveled, undaunted about appreciating her bluntly even while Hunter looked on.
Amelia's features lit and softened with recognition and she raised a hand toward the untamed pomp of hair between Elliot's horns, as if doting on a younger sibling. A sharp, wet slap abruptly interrupted her as Hunter snapped a supple, shaggy thong of fresh goat skin just above her elbow. The chastisement left a smear of blood striped on her. Although he was lacking the horns, Hunter stretched from the office chair was decisively the devil of the two men, in a sharp and slim-tailored two-piece suit which was as understated as the vivid red cloth could suffer to be.
Amelia narrowed her eyes at Hunter, contemplating, for just an extra long moment what her reaction would be as she thumbed the blood from her forearm - her plush, pale skin swelling around the whiter imprint of her harsh cleanliness.
"Get your own," he warned Elliot with a languid smile.
Amelia decided then to lean, deeply, toward Hunter. As any cultivated woman should do, the deep V line of her dress, stretched all the way to her navel barely shifted with gravity as it was affixed with invisible clothier tape to the places that needed hiding. However, the effect was much the same, and the long, streamlined view of his immaculate girlfriend, her breastbone pale and spread by rib-wings, was his... Just as she was keenly aware that Elliot got a full and satisfying glimpse of the french stocking seams that revealed themselves slowly through the shimmying split of the already short skirt-hem of her dazzling ensemble. For all her planes and angles, Amelia had a few satisfying curves and she would display them as she pleased, even while kissing Hunter square on his forehead. Then the corner of his eye. Then the corner of his mouth. "Never sharing your nice things," she said simply. Her breathe was warm and Scotch-sweet, she'd stolen a nip or two. Naughty.
"Aye, I'm on my way to go pick up my date; catch up soon," was Elliot's honest alibi for peeling backward out of the office with a grin and everyone's dignity intact. Well, Amelia's dignity could take a few hits. South London and all...
In the main room, Moriah came to work. Her attire was black and red, a rockabilly conflagration of social commentary. It was metal and trashy punk rock all at once. But she had put scarlet and hot pink streaks in her already red hair. She lifted her brows at Julian as she surveyed the bar. There were decorations.. but not much. The lighting was different and inspired a more intimate experience of the reasonable-chicness of the cocktail bar. There were decorations here and there. Tasteful pieces of Roman history. Amelia had demanded it be more Roman than Hallmark. They had obliged. But Moriah always had to add a little kitsch to the place. She snuck a few hearts in the different nooks of the bar as she wandered through. She shrugged at Julian and he shrugged back.
"When's show time?" she asked Julian.
"An hour. Anyone outside yet?"
"No, but there's a few cars just …waiting. Tinting is so dark I can't tell who or what is in them."
"Oh, that's her cousin. She thought they might show up first."
"They?"
"They're playing one of the private rooms in the club before the main Midnight concert. Amelia said they'd stop by here first to hang out and catch up."
"Is the whole band coming?"
"Maybe?"
"I'll grab another bottle of Benedictine."
"And chartreuse."
"Right. Yellow *and* green. Got it," and Moriah slipped into the back rooms to drop off her bag and stock up on the herbal elixirs the bar had come to be known by.
Users browsing this forum: No registered users and 1 guest